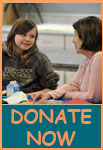 .
Support Everybody Wins! Vermont
Would you like to become a partner to Everybody Wins! Vermont? There are many ways to support our programs – and you'll be in good company. Here are some ways you can help:
By Mail:
Donations by check may be mailed to:
Everybody Wins! Vermont
P.O. Box 34
Montpelier, VT 05601

Online
Donate online using our secure Web site.

Need More Information?
If you would like to make a donation but need more information, please e-mail us.
Donate books
At each school site, EW! VT maintains a mini-library for use by the students and mentors. We are constantly updating our book carts and replacing well-worn copies of well-loved books. If you would like to donate new, high-quality books to Everybody Wins! Vermont for our book carts, please e-mail or call us at (802) 229-2665. (Please note that EW! VT does not accept donations of old or used books. From time to time, we accept donations of used books in good condition for book sales or other events.)

Shop Norwich Bookstore
We have partnered with the Norwich Bookstore to spread the enjoyment of reading. With their new customer Rewards Program, they will give you a $10 coupon every time you spend $200 AND they will give Everybody Wins! Vermont the amount equal to 1% of your purchases if you designate us as your preferred partner. Visit them at 291 Main Street in lovely Norwich, Vermont or on the Web at http://norwichbookstore.com for more details and to sign up.

Shop online at Amazon.com
You can also support EW! VT by shopping at Amazon.com. Use the link at the top of this page and five percent of your purchase will be donated to EW! VT. It's that simple!
Corporate & Community Partners 2012-2013
We gratefully acknowledge the companies, organizations, individuals, foundations, and schools that supported us during our 2012-2013 program year.
In 2012-13, more than 670 individuals volunteered as reading mentors. Mentors are role models for reading and for life. Among our hundreds of volunteers, we count entrepreneurs, bankers, police officers, writers, lawyers, educators, retirees, business men and women, artists, students, and more. We appreciate their generosity, consistency, passion, and dedication.
Over the years, our mentors have volunteered more than 128,000 hours helping children in Vermont develop a love of reading. We appreciate their generosity, consistency, passion, and dedication.

EW! VT's work would not be possible without the generosity of our many individual; donors and the support of foundations, businesses, partner schools, and community partners
We thank FairPoint Communications for generously donating space for our central office in Montpelier, as well as for the encouragement they extend to their employees to support EW! VT through volunteer involvement and cash gifts.

Foundations

Agnes Lindsay Trust
Amachi Mentoring Coalition Project administered by Mobius
Ben & Jerry's Foundation – CAT Grants
Berkshire Bank Foundation
Charles R. Wood Foundation
Donley Foundation
Foundation for Rural Education & Development
General Electric Foundation
Golub Foundation (Price Chopper)
Jack & Dorothy Byrne Foundation
Mascoma Savings Bank Foundation
Oakland Foundation
State of Vermont through The Permanent Fund for Vermont's Children**
TD Charitable Foundation
Turrell Fund
Verizon Foundation
Vermont Children's Trust Fund
Vermont Community Foundation – NEK Fund
Vermont Mentoring Funders Collaborative**
Walter Cerf Community Fund
Weinstein Family Fund

Businesses & Organizations

Against the Grain Gourmet Food
Artisan's Hand
Buttered Noodles
Capitol Stationers
College of St. Joseph
The Drawing Board
FairPoint Communications
G.E. Aviation
Google
Green Mountain Coffee Roasters
IBM Corporation
King Arthur Flour
Kiwanis Club of Montpelier
Mascoma Savings Bank
Merchants Bank
Microsoft
National Life Group
Newport Rotary Club
Northfield Savings Bank
Norwich Bookstore
Norwich Lions Club
Omya
Onion River Sports
People's United Bank
Pitney Bowes
Rutland Regional Medical Center
St. Johnsbury Rotary Club
United Way of Addison County
United Way of Chittenden County
VELCO
Vermont Country Store
Waitsfield Telecom
White River Rotary
Woodbury Mountain Toys

Partner School Support

Barre City Elementary & Middle School
Bluff Elementary School *
Chelsea Public School *
Mary Hogan School
Montpelier Public School System
Neshobe School/Brandon School District
Rutland City Public Schools
St. Johnsbury School
Sharon Elementary School*
Shelburne Community School
Thatcher Brook Primary
Tunbridge Central School*
Westshire Elementary*
Waitsfield Elementary
White River School/Hartford School District

In-kind Support

5 Olde Tavern & Grille *
Antiques at 110 Main
April Cornell
Bear Pond Books
Ben & Jerry's
Blue Sky Restaurant Group*
Bolton Valley Resort
Books a Million*
Butternut Inn
Cabot Creamery Cooperative
Callahan's Closet
Cabot Creamery Cooperative
Callahan's Closet
Cheese Traders & Wine Sellers
Claremont Opera House*
Concept**
Co-op Food Stores*
Dartmouth Bookstore *
The Edge
Green Peppers Pizza
Greg's Meat Market
Hannaford Brothers ~ Claremont, NH *
Hannaford Brothers~ W. Lebanon, NH *
Healthy Living Market & Café
Homegoods Store
Jill Jones, Hair by Design
Junebug Mother & Child
The Knitting Studio
Kinney Pike Insurance
Lake Champlain Ferries
Lou's Restaurant*
Mansfield Heliflight
Mr. Twitter's Garden & Gift Emporium
Nomad Press Publications
Northeast Disabled Athletic Association
Otter Creek Bakery
Pet Food Warehouse
Price Chopper~Lebanon, NH*
Price Chopper~S. Burlington, VT
Price Chopper~W. Lebanon, NH*
Ramunto's Pizza~ Middlebury, VT
Seventh Generation
Shaw's~Benning Street, W. Lebanon, NH*
Shaw's~Montpelier, VT
Shaw's~Upper Valley Plaza, W. Lebanon, NH*
The Sherry-Netherland Hotel
Sorrell Construction Management
Stone Arch Bakery*
The Vermont Book Shop
Vermont Farm Table
The Vermont Lake Monsters
Vermont State Parks
Vermont Symphony Orchestra

Notes:
* Supported UVBEP sites
** Supported EW! VT & UVBEP sites
Volunteering Companies and Organizations

We are grateful to these organizations for actively encouraging their employees to volunteer as reading mentors.
AARP
Ansys
Bear Pond Books
Biotek Instruments
Town of Brandon
Britton Lumber Company*
Century 21 Jack Associates
Champlain College
Claremont Savings Bank*
Clerkin Agency
College of St. Joseph
Dartmouth College
Dinse, Knapp, & McAndrew Attorneys at Law
DREAM Program
Everybody Wins! Vermont
FairPoint Communications
Fleming Museum
Gardener's Supply
General Electric
Green Mountain Coffee Roasters
Hartford School District
Heritage Family Credit Union
Highview Partners
Hypertherm, Inc.**
IBM
King Arthur Flour
Lake Sunapee Bank*
Mascoma Savings Bank
The Meadows
Mentor Connector
Merchants Bank
Middlebury College
Middlebury Police
Mobius
Montpelier Public Schools
National Life Group
Northfield Savings Bank
One Planet Afterschool Program*
People's United Bank
Red River Computer Company*
Resource Systems Group, Inc.
Rutland Area Visiting Nurse Association & Hospice
Rutland Public Schools
Rutland Regional Medical Center
Town of Sharon*
Shelburne Museum
Starbucks
State of Vermont~Agency of Education
State of Vermont~Attorney General's Office
State of Vermont~Department of Motor Vehicles
TD Bank
Tuck School of Business at Dartmouth College
Town of Tunbridge*
Tunbridge Central School*
University of Vermont
University of Vermont Extension
Upper Valley Business and Education Partnership
Verizon
Vermont Children's Trust
Vermont Community Foundation
Vermont Housing and Finance Board
Vermont Lake Monsters
Vermont Law School*
Vermont Supreme Court
Waitsfield Telecom
Washington County Diversion Program
Washington West Supervisory Union
Waterbury Public Library
Westshire Elementary School*
Woodbury Mountain Toys

Notes:
* Supported UVBEP sites
** Supported EW! VT & UVBEP sites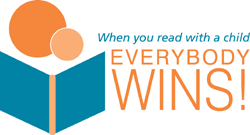 Everybody Wins! Vermont | 25 School Street, P.O. Box 34
Montpelier, VT 05601
Phone: (802) 229-BOOK (2665) | FAX: (802) 229-1010
info@ewvt.org
Satisfy your need to read and support EW! VT's young readers! For every purchase you make by entering Amazon.com site using the link above,
Amazon.com will donate 5% of your purchase value to EW! VT.